Discussion is a cornerstone of any learning community. Students construct and confirm meaning, in part, through dialogue with their peers. Online discussions offer an avenue to connect students online and facilitate knowledge construction; however, many teachers are frustrated by a lack of student engagement online. Too often, a teacher's questions in a video conferencing session are met with long silences. In training sessions, teachers often ask, "How can I increase engagement and participation in synchronous online discussions?"
First, it is important to remember that participating in a real-time discussion is scary and feels like a risk for students who are shy, anxious, or need more time to process the questions. Second, there is no quick fix or silver bullet when it comes to participation online. Helping students find their voices and develop confidence in their ability to articulate their ideas takes time and practice.
Below are suggestions I use in coaching sessions to help teachers prepare for, facilitate, and wrap up synchronous online discussions to increase student engagement in and ownership of the conversations.
Preparing for Online Discussions
Create and Share a Planning Document in Advance of the Conversation
Participating in a real-time, rapid-fire discussion can be an intimidating and anxiety-inducing experience for many students. Students may be shy or need more time to process the questions. One way to help students prepare for an online discussion is with a planning document that is shared like any other assignment at the start of the week. The planning document clarifies the meeting details, expectations for participation and behavior, and the questions that the group will be discussing. Teachers can include a list of discussion strategies and sentence starters designed to help students add to the conversation in a respectful, supportive, and substantive way.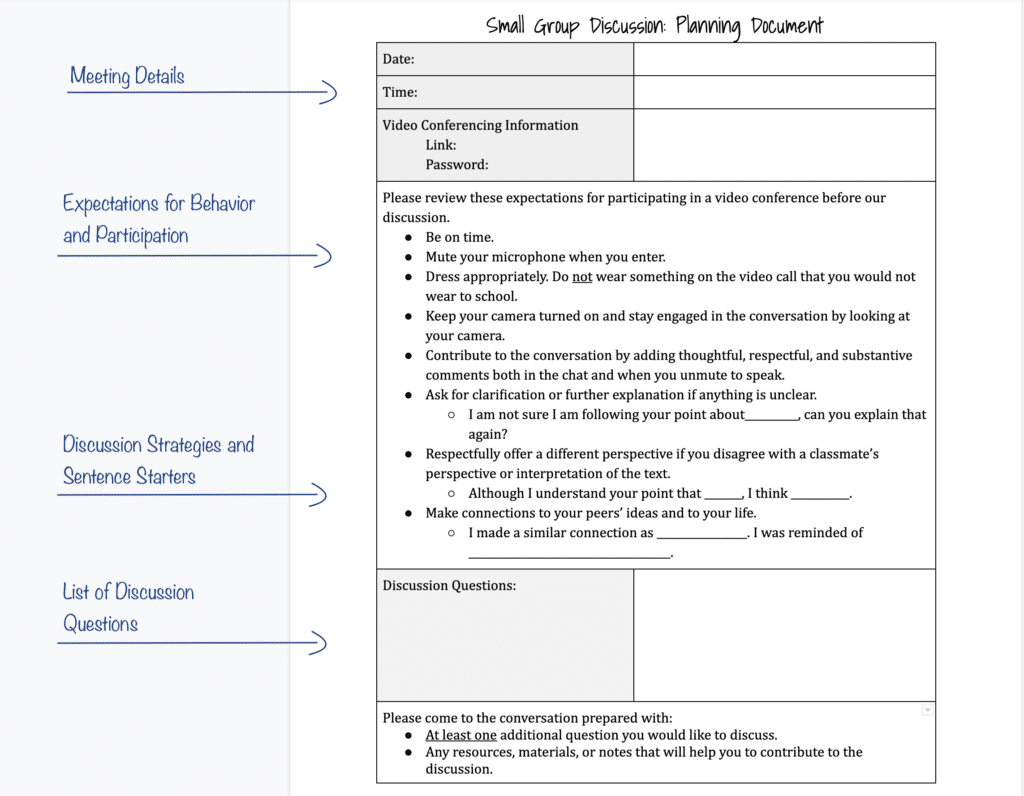 Prepare a Slide Deck with Your Discussion Questions
As teachers prepare for a synchronous online discussion, it is crucial to craft thought-provoking, high-interest questions in advance. Once teachers have their questions, I recommend creating a Google Slide presentation or PowerPoint and adding one question in big font to each slide. That way, the teacher can project the presentation during the discussion so students can both see and hear the discussion question.
Facilitating Online Discussions
During the discussion, I encourage teachers to project the slide with a discussion question, give students a minute or two to read the question and brainstorm their ideas in the chat window. This gives students a moment to process the question before they have to unmute and share their ideas.
Teachers will need to discuss and establish communication norms prior to the first academic discussion.
What behaviors do you want to encourage in the discussion?
What behaviors would you like students to avoid?
Will students need to raise a virtual hand before unmuting?
Will the teacher unmute students, or will students be able to unmute themselves?
Will there be a time limit on individual responses?
Teachers may want to take an active role in muting and unmuting students to ensure that they do not talk over or interrupt each other. Even unintentional interruptions may make some students feel less comfortable participating.
In addition to establishing norms, teachers will want to employ facilitation skills to keep the conversation moving without overpowering or dominating the discussion. Teachers should focus on:
identifying moments of agreement or disagreement
helping students to make connections between ideas shared
asking follow up questions to drive deeper thinking
inviting quiet students into the conversation
recognizing strong contributions to the conversation
guiding the group toward meaning-making
Teachers must use their facilitation skills to keep the conversation moving while keeping the students' ideas and contributions at the forefront.
Wrapping Up Online Discussions
Engage Students in a Post-Discussion Reflection
Encourage students to reflect on what they learned as a result of participating in the discussion. Teachers can use a quick 3–2–1 format asking students to identify three details or things they learned, two questions they have, and one thing that surprised them.
I've created the Google Slide presentation below to bring students into a shared virtual space for this post-discussion reflection. That way, students can share their thoughts with the group and read each others' responses. It also simplifies the workflow for teachers who can view all the students' responses in a single location. Over time, I hope that ending an online discussion with a reflective practice will help students to recognize the value of these conversations.
Ask Students to Assess Their Engagement and Participation
Ending an online discussion with a self-assessment exit-ticket is another way to encourage students to take responsibility for their participation. Teachers can use a simple Google Form, like the one below, to ask students to evaluate their engagement in the conversation, describe their level of preparedness, identify what they did well and what they need to work on, and set a goal for themselves that they can work toward in the next discussion.
In addition to preparing for, facilitating, and wrapping up online discussion, I encourage teachers to articulate the WHY behind these conversations. What is the value of online academic discourse? Explain to students that discussion builds community, drives deeper thinking, improves retention of information, and provides insight into what students understand. Articulating the value of these discussions may help students to understand why teachers dedicate time to them.
In a newsletter she shared during the early months of the pandemic, Alexis Wiggins made a beautiful statement about the value of dedicating time to engaging students in discussion during her virtual conferencing sessions. She said, "I look forward to every class because it's about the students' ideas. Anything else I need to communicate to them can come in an email, assignment post, or screencast. In a moment during which we realize time itself–and especially time with each other–is more valuable than ever, our synchronous sessions with students should be focused on making meaning and inquiry, not information. Ideas matter, questions matter, community matters. Our time together online should reflect that." I could not agree more!